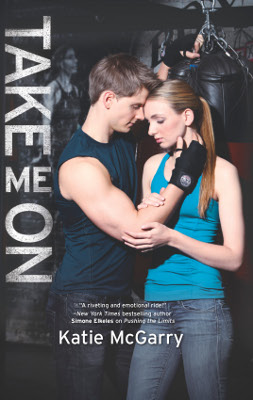 Purchase Now:
Amazon | BAM | Barnes&Nobles | BookDepository | Indie | GooglePlay | iBooks |
Champion kickboxer Haley swore she'd never set foot in the ring again after one tragic night. But then the guy she can't stop thinking about accepts a mixed martial arts fight in her honor. Suddenly, Haley has to train West Young. All attitude, West is everything Haley promised herself she'd stay away from. Yet he won't last five seconds in the ring without her help.
West is keeping a big secret from Haley. About who he really is. But helping her – fighting for her – is a shot at redemption. Especially since it's his fault his family is falling apart. He can't change the past, but maybe he can change Haley's future.
Haley and West have agreed to keep their relationship strictly in the ring. But as an unexpected bond forms between them and attraction mocks their best intentions, they'll face their darkest fears and discover love is worth fighting for.
Bonus novella in Take Me On! The novella, Crossing the Line, will appear in print for the first time in the back of Take Me On. Crossing the Line will also be available in the e-book version of Take Me On!
Praise for TAKE ME ON:
RT Magazine loves TAKE ME ON! "McGarry has written another knock-out hit–gritty, hot and just as enthralling as always." ~ RT Magazine!
"With likable characters and a tensely building romance, this book will not disappoint fans." – Library School Journal
Take Me On is Goodreads Choice Nominee for Best Young Adult Fiction of 2014
Take Me On is the 2014 YABC Choice Award Nominee for Best Young Adult Contemporary
Take Me On is Goodreads Choice Award Finalist for 2015