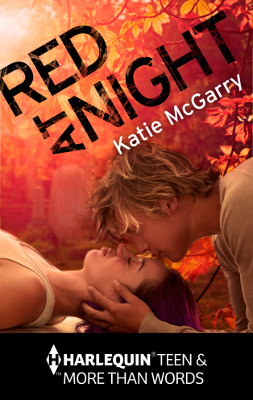 Read Now!
Amazon | Barnes&Nobles | GooglePlay | iBooks | Kobo
Every year, Harlequin's More Than Words award is given to three real-life heroines, women whose courage and vision have helped change people's lives for the better. Once again, three bestselling Harlequin authors have written stories inspired by these remarkable women.
In Red at Night, Stella and Jonah are total opposites. She's the girl with purple hair from the wrong part of town. He's a high school senior who hangs with the cool crowd. Until a car accident leaves him haunted by guilt, and Jonah starts spending time at Stella's favorite refuge…the local cemetery.
Stella knows she should keep her distance—after all, she spent her girlhood being bullied by Jonah's friends. Once he's sorted out his tangled emotions, Jonah won't have time for her anymore. Too bad she's already fallen for him….
Look for the ebook inspired by real-life heroines: Red at Night by Katie McGarry. Visit the Harlequin More Than Words website, or your favorite ebook retailer to download these free novellas today.