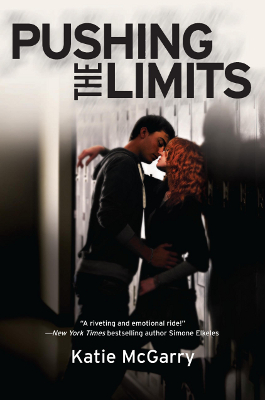 Purchase Now:
Amazon | Barnes & Nobles | Indie | Kobo | BAM | Harlequin | iBooks  | BookDepository | GooglePlay
No one knows what happened the night Echo Emerson went from popular girl with jock boyfriend to gossiped-about outsider with "freaky" scars on her arms. Even Echo can't remember the whole truth of that horrible night. All she knows is that she wants everything to go back to normal.
But when Noah Hutchins, the smoking-hot, girl-using loner in the black leather jacket, explodes into her life with his tough attitude and surprising understanding, Echo's world shifts in ways she could never have imagined. They should have nothing in common. And with the secrets they both keep, being together is pretty much impossible.
Yet the crazy attraction between them refuses to go away. And Echo has to ask herself just how far they can push the limits and what she'll risk for the one guy who might teach her how to love again.
Praise for PUSHING THE LIMITS:
2013 ALA Quick Picks for Reluctant Young Readers
RT Magazine's 2012 Reviewer's Choice Awards Nominee for Young Adult Contemporary Novel!
2012 Goodreads Choice Award Nominee for Young Adult Fiction
"A riveting and emotional ride!"—New York Times bestselling author Simone Elkeles
"McGarry details the sexy highs, the devastating lows and the real work it takes to build true love." —Jennifer Echols, author of Such a Rush
"An edgy romance that pulls you in and never lets go. I was hooked!"—Gena Showalter, New York Times bestselling author of Alice in Zombieland
"Pushing the Limits is an accomplished debut, a perfect choice for readers who thrive on edgy, riveting storytelling." –Bookpage
"Real aches and real love in Katie McGarry's sensitive, complex, always surprising, really excellent first novel." — School Library Journal
September 2012: Pushing the Limits selected for Amazon UK's Children's Picks of the Month
2012 YALSA Readers' Choice Nominee Association of Booksellers for Children (ABC) listed Pushing the Limits as one of the Best Books for Children in their ABC 2012 Catalog
Gayle Wilson Award of Excellence for Young Adult Fiction 2013
New England Reader's Choice Bean Pot Award for Young Adult Fiction 2013
Pushing the Limits is the WINNER in the Young Adult Romance category in the Colorado Romance Writers Award of Excellence Contest! 2013
Pushing the Limits has been included in the 2014 Kentucky Bluegrass Award Master Lists for grades 9-12.
Pushing the Limits made YALSA's Official 2013 Teens' Top Ten List
Pushing the Limits, has been named to the 2014-15 Eliot Rosewater Indiana High School Book Award List
Chosen as a 'summer 2012 Kids' Indie Next List' title – "this novel is expertly crafted and wholly believable. Sophisticated teens rejoice! Here's the number-one book on your summer 'must read' list!"
"Brimming with dark memories, veiled secrets, and steamy moments…its suspenseful plot, dramatic conflicts, and tragic characters will keep readers engrossed." —Publishers Weekly
"McGarry follows the teens as they interact, fall in love, fight, and work through their difficulties…compulsively readable… A probing, captivating story."—Kirkus Book Reviews
"Complex, emotional and gripping. The internal and external conflicts McGarry's characters face will keep you enthralled, and the growth they experience throughout the novel takes real talent – I can't wait for McGarry's next book." – RT Book Reviews
'Pushing The Limits' was chosen as favorite book for 2015 SD Children's & Teen Choice Book by YARP!