Order Now!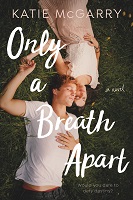 Amazon B&N iBooks Google Play BAM Kobo IndieBound
They say your destiny is carved in stone. But some destinies are meant to be broken.
The only curse Jesse Lachlin believes in is his grandmother's will: in order to inherit his family farm he must win the approval of his childhood best friend, the girl he froze out his freshman year.
A fortuneteller tells Scarlett she's psychic, but what is real is Scarlett's father's controlling attitude and the dark secrets at home. She may be able to escape, but only if she can rely on the one boy who broke her heart.
Each midnight meeting pushes Jesse and Scarlett to confront their secrets and their feelings, but as love blooms, the curse rears its ugly head…
Add ONLY A BREATH APART to Goodreads by clicking here!
Read the first chapter by clicking here!
Praise for ONLY A BREATH APART:
"Beyond a haunted teen romance is a beautiful, moving exploration of domestic violence, forgiveness, and self-love. Simultaneously heartbreaking and heartwarming." Kirkus Reviews, starred review
"A gorgeous, heartfelt journey of redemption and love." New York Times bestselling author Wendy Higgins
"Gritty and real, Only a Breath Apart is a story of hope conjured from pain, strength drawn from innocence, and love earned from self-respect. Beautiful, poignant, and fierce." Kristen Simmons, critically acclaimed author of the Article 5 series
"Katie McGarry meticulously weaves a fragile love story through a minefield of loss, broken trust, and familial curses both real and imagined. Only a Breath Apart is haunting, authentic, and ultimately hopeful." New York Times bestselling author Tammara Webber
"A painful, beautiful, and utterly magical story about the family you're born into versus the family you choose. Make sure you're in a comfy chair when you start reading because you won't want to put it down." Trish Doller, author of In a Perfect World

"Southern Gothic at its finest, this is Katie McGarry's best book to date!" Miranda Kenneally, author of Catching Jordan and Breathe, Annie, Only a Breath Apart
"McGarry is a master at penning an emotional, heartbreaking and uplifting story! Scarlett and Jesse's story will stay in your heart long after you finish the book." New York Times bestselling author Simone Elkeles
"A touching tale of love and fate straight from the Heartland." Mindy McGinnis, author of The Female of the Species
"Katie McGarry meticulously weaves a fragile love story through a minefield of loss, broken trust, and familial curses both real and imagined. BREATHE is haunting, authentic, and ultimately hopeful." ~Tammara Webber, author of the Contours of Heart series and NYT Bestseller Easy
"Powerful, emotional, and ultimately hopeful. Breathe is an unforgettable story that will leave its mark on your heart." C.J. Redwine, New York Times bestselling author of the Ravenspire series